In order to be able to offer your supporters Google and Apple Pay, SEPA DD and credit cards in the donation form, you need to connect Stripe to your hub organisation.
Before you start
The activation of the payment methods in the Hub is included in your Growth package. Apart from the RaiseNow Growth platform fee, there are no additional RaiseNow costs. Google and Apple Pay, SEPA DD and credit cards in the Hub are processed via the payment service provider Stripe. The following additional transaction fees apply:
Google-/Apple-Pay & credit cards:
Switzerland 2.9% + 0.30 CHF
European Economic Area 1.5% + 0.25€.
SEPA DD:
Switzerland 0.40 CHF
European Economic Area 0.35 €
You can find an overview of the Stripe fees at https://stripe.com/en-ch/pricing (option to select the desired country is at the bottom left).
Who can use this feature?
The "Connect Stripe" feature is available to all RaiseNow Growth customers in the Hub under 'Settings→Payment providers'.
If you do not see the feature, please contact support@raisenow.com so we can assign the required permissions to your organisation.
Step-by-step instructions
Log into your RaiseNow Hub account. (If your organisation doesn't have a Hub account yet, you can register here. You will then need to have your account activated and assigned the required permissions by our support team).
In 'Settings→Payment providers', the available payment providers and their status are listed. Click on the 'Connect' button for Stripe.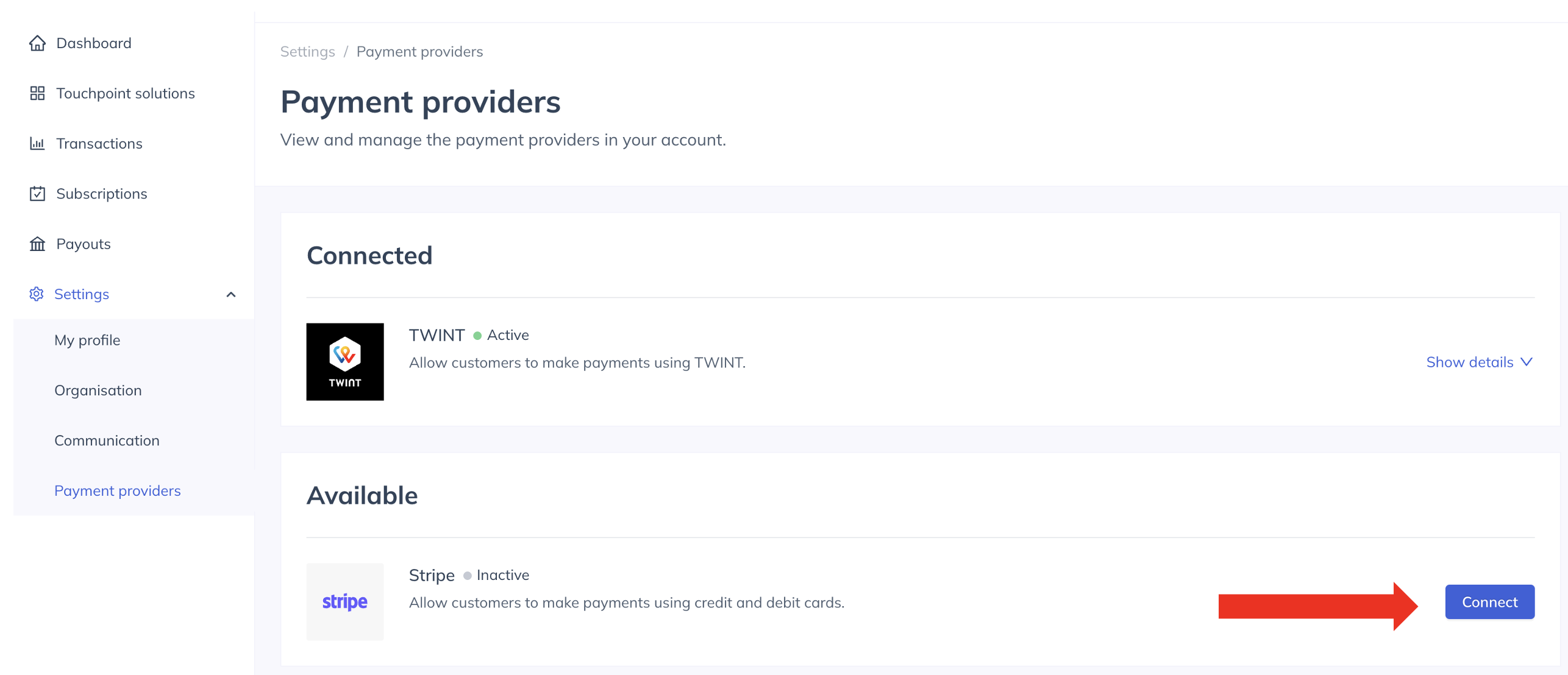 Follow the redirect and instructions to create a new Stripe account and connect to the Hub. If a Stripe account already exists for your organisation, use the registered email address to connect this account.
After successfully connecting the Stripe account, contact support@raisenow.com if you would like us to enable a Stripe payment method in the donation form.