In the RaiseNow Hub, you can create different touchpoint solutions for your organization's various use cases and requirements. Click here for details of the different touchpoint solutions.
If you've already created a touchpoint solution (step-by-step instructions here), you'll know that you can give each touchpoint solution its own name. This means that after the event you can identify which payments and donations have come in via each particular touchpoint solution. You can also add campaign IDs and sub-IDs to ensure that you can assign payments even more precisely after the event.
Example: Your club is holding a summer fest and has various sales points where payments will come in, for instance entry fees, food and drink sales, and raffle.
It's worth working with campaign IDs and/or sub-IDs if you want to perform a detailed analysis after the event, to see how much revenue came from "Entry fees", "Food and drink sales" and "Raffle".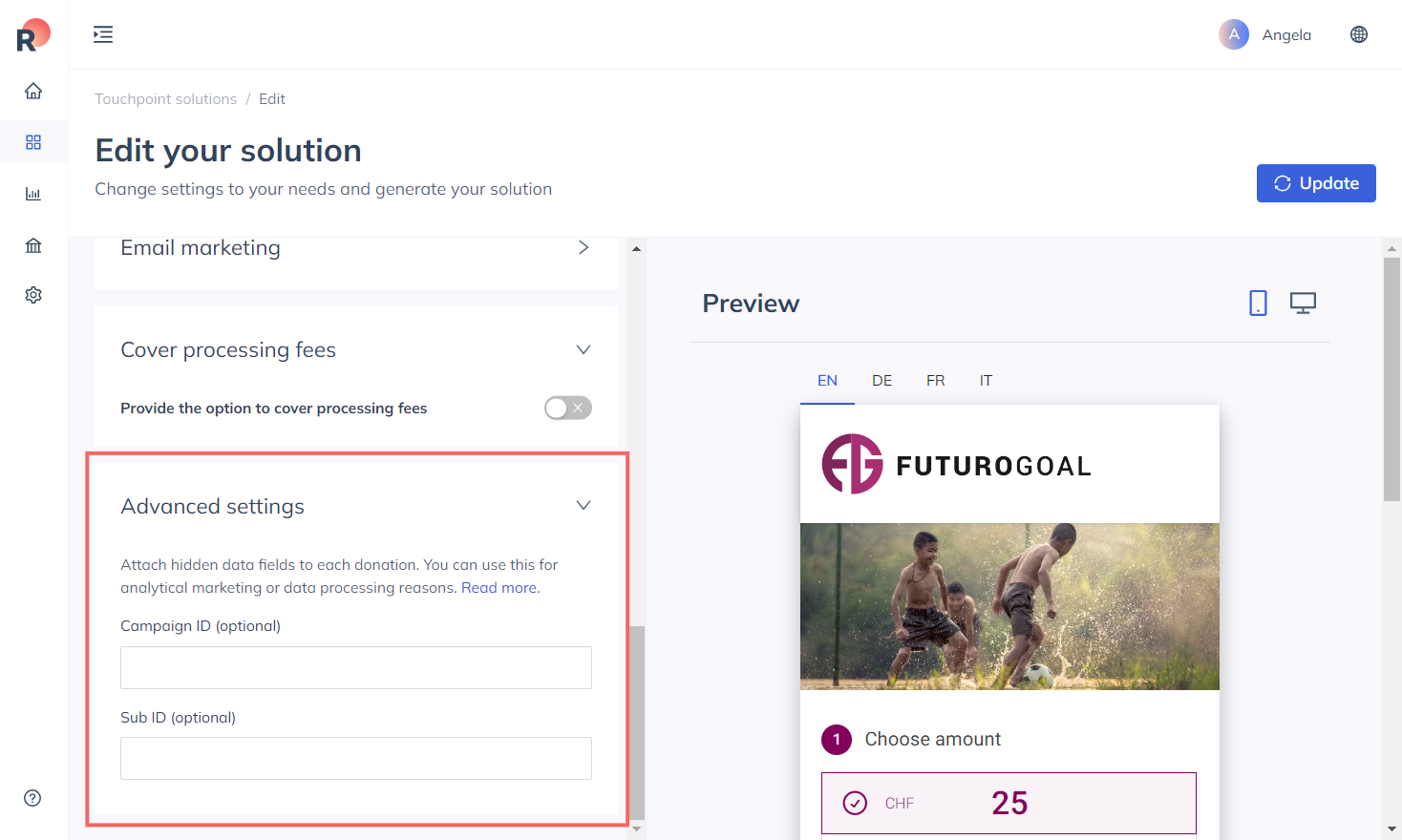 For example, you could create a touchpoint solution for the raffle, so visitors can make contactless payments right there at the stand.
The campaign ID would be "Summer fest", because it's about revenue from the summer fest, and the sub-ID in this case would be "Raffle". This allows you to assign payments precisely after the event. Please note that the name of the touchpoint solution is already meaningful in itself. Depending on the event/use case, you may not need a campaign ID. But you should DEFINITELY USE a campaign ID if the payments are to be imported into club management software such as Webling, ClubDesk or Fairgate, because setting a campaign ID is an important prerequisite in that case. In general, campaign IDs are used for analytical marketing purposes, or for data processing.
If you have any questions, feel free to contact us at support@raisenow.com