Here's what to do if you want to create a TWINT QR code in the RaiseNow Hub.
Before we start: You can make as many TWINT QR codes of different types as you like. You don't need to decide on just one.
Log in to the RaiseNow Hub
Have you created a user account in the RaiseNow Hub and registered your organization? Wonderful!
Have we already verified your organization? Great! Then you can log in tothe RaiseNow Hub to create one or more TWINT QR codes.
Choose "Touchpoint solutions" in the menu on the left
If you've already created TWINT QR codes, you'll see them listed here. You can filter the display by TWINT QR code type, by status, or by your internal names for the QR codes.
Under "Edit", you can continue to edit a TWINT QR code that is in process, and complete it. You can edit an already completed code or display it straight away.
Create a new TWINT QR code
To create a new TWINT QR code, click on "Create a new TWINT QR code" at the top left. Then you can choose between three different types of TWINT QR code. We've explained the differences between the types here. Choose the type that best fits your requirements. If you're not sure what to choose, feel free to write to us at support@raisenow.com and we'll be glad to help you find the right solution.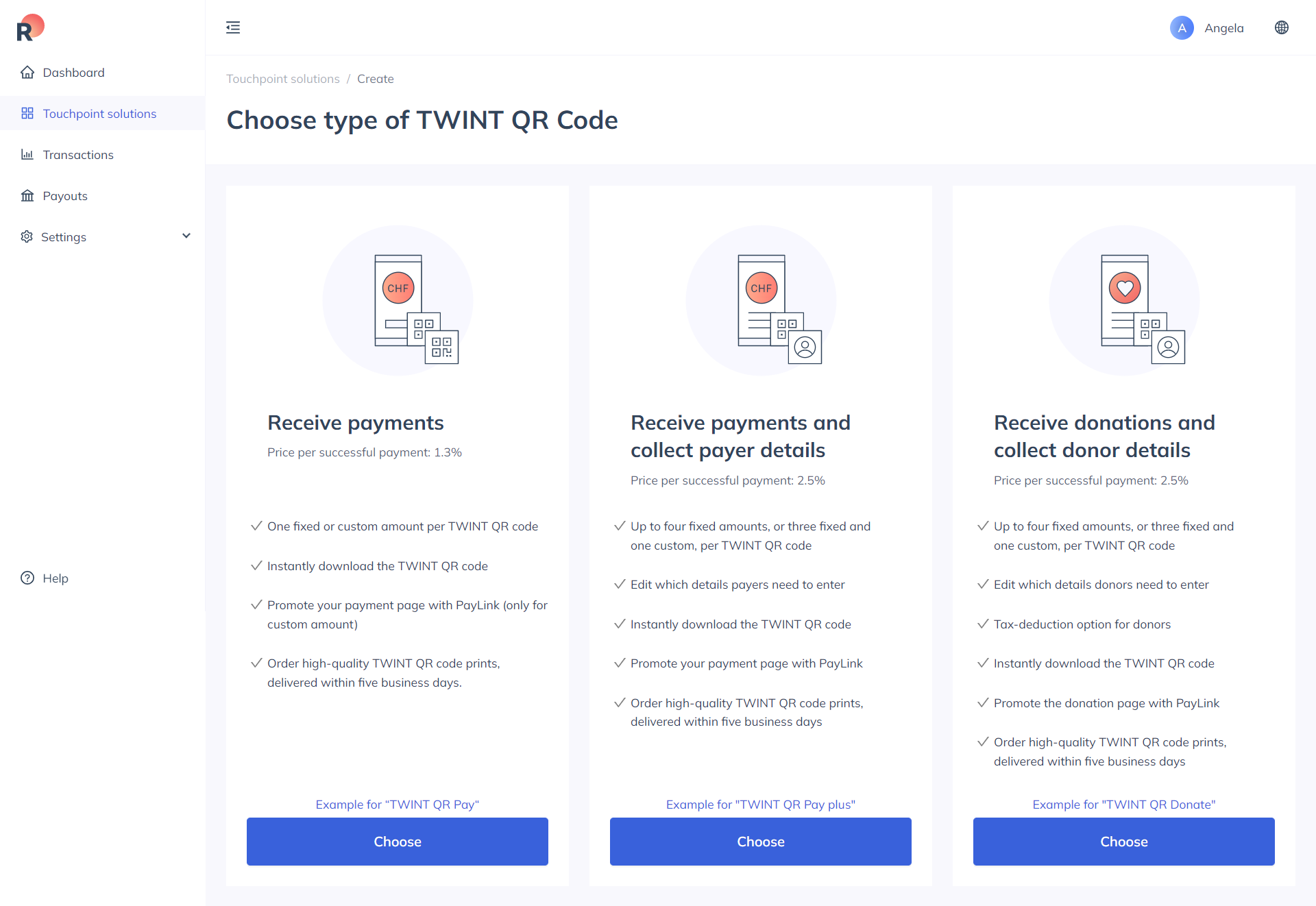 In these instructions we'll use the "TWINT QR Donate", or "Receive donations and collect donor details" type. You can create as many TWINT QR codes of the three types as you like and use them for different purposes.
Customizing the "TWINT QR Donate" code
Here, you'll find out how to customize your TWINT QR code. When editing your QR code, you'll see a preview pane on the right that displays all the changes you make in real time. This is the donation form that donors are taken to when they scan our TWINT QR code with their TWINT app.
Under Internal name, you can give your TWINT QR code a meaningful name that is only visible to you internally. To start with, you might like to start with "Test", and later you can perhaps include the purpose and create a name such as "Donor mailshot 2020".

Under Organization information, you enter your organization's name that will appear in the header of the donation form, as well as a contact email address where donors can reach you if they have questions.

Under Design, you can decide whether to display your name or logo in the header of the donation form. If you decide to display your logo, you can upload it here. You can also change the color of the highlights on the form.

And you can specify the suggested amounts on the form. You can use up to four values including a custom amount, and you can also specify which of the values should be preselected. You can find out more about the amounts in the two short video tutorials.

The Collect personal data section is all about which data you'd like to collect from your donors. (Note: You only have this option if you have chosen a QR code of the type "Receive payments and collect payer details" or "Receive donations and collect donor details")
You can make a general decision about whether you want to collect personal data and which items should be included. "Manage fields" takes you to the fields you can choose from for data collection. There, you select all the fields that you want the donor to see. You can then specify in the list which fields are mandatory for a donation to be possible. You can also choose whether donors are to have the option of getting a donation receipt from you. That way, you'll know which donors will need you to send them a donation receipt at the end of the year or in the new year. (Note: You only have this option for the "Receive donations and collect donor data" type) (*)
Finally, you can specify a campaign ID or sub-ID under Advanced settings. To find out how that could be useful, have look here.
(*) Here we explain where you can find donors' personal data in the RaiseNow Hub. And here you can find out how to export that data as a CSV list.
Saving and downloading
Once you've made all your changes and have checked them in the preview, you can click on "Create QR code". On the page that comes up, you'll see the TWINT QR code as a preview and you can test it right there.
Then you have the option to download the TWINT QR code. You receive a ZIP file that contains the QR code in PNG format in various color schemes and languages (*). The ZIP file also contains our TWINT QR Styleguides. We'd really urge you to read the TWINT QR Styleguides before adding the QR code to your advertising material.
You can also order print materials. We can create stickers with your TWINT QR code and send them to you. You can also add suitable table stands to your order.
Please note that it can take up to seven working days for your order to arrive.
(*) The TWINT QR code is only available as a .PNG file. Do you need a vector file? You'll find more information here.
6. Test your TWINT QR code
We recommend that you make a test payment as soon as you receive your TWINT QR code digitally or in the mail. Go on your donors' journey, scan the code with your TWINT app and send a payment.

If you want to add the TWINT QR code to a print file (e.g. for a flyer or poster), feel free to send us your file for checking at twint@raisenow.com.
In such cases, it's especially important that you do a test run using the printed document before printing large quantities. Print it at full size and check whether you can make a payment. If the payment goes wrong, feel free to contact us (support@raisenow.com). Please give us precise information about the error message, and if possible send us a screenshot of where it occurs.
If you have any more questions, feel free to send us a mail at support@raisenow.com.