We recommend including our TWINT banner on your correspondence, to remind your donors that they can also scan the QR payment slip using the TWINT app.
With the help of the following link you can download the TWINT banner files directly and use them for further processing of your QR Payment slip:
https://assets.raisenow.io/support/TWINT-extension-assets.zip
This document explains how to integrate the attached TWINT banners.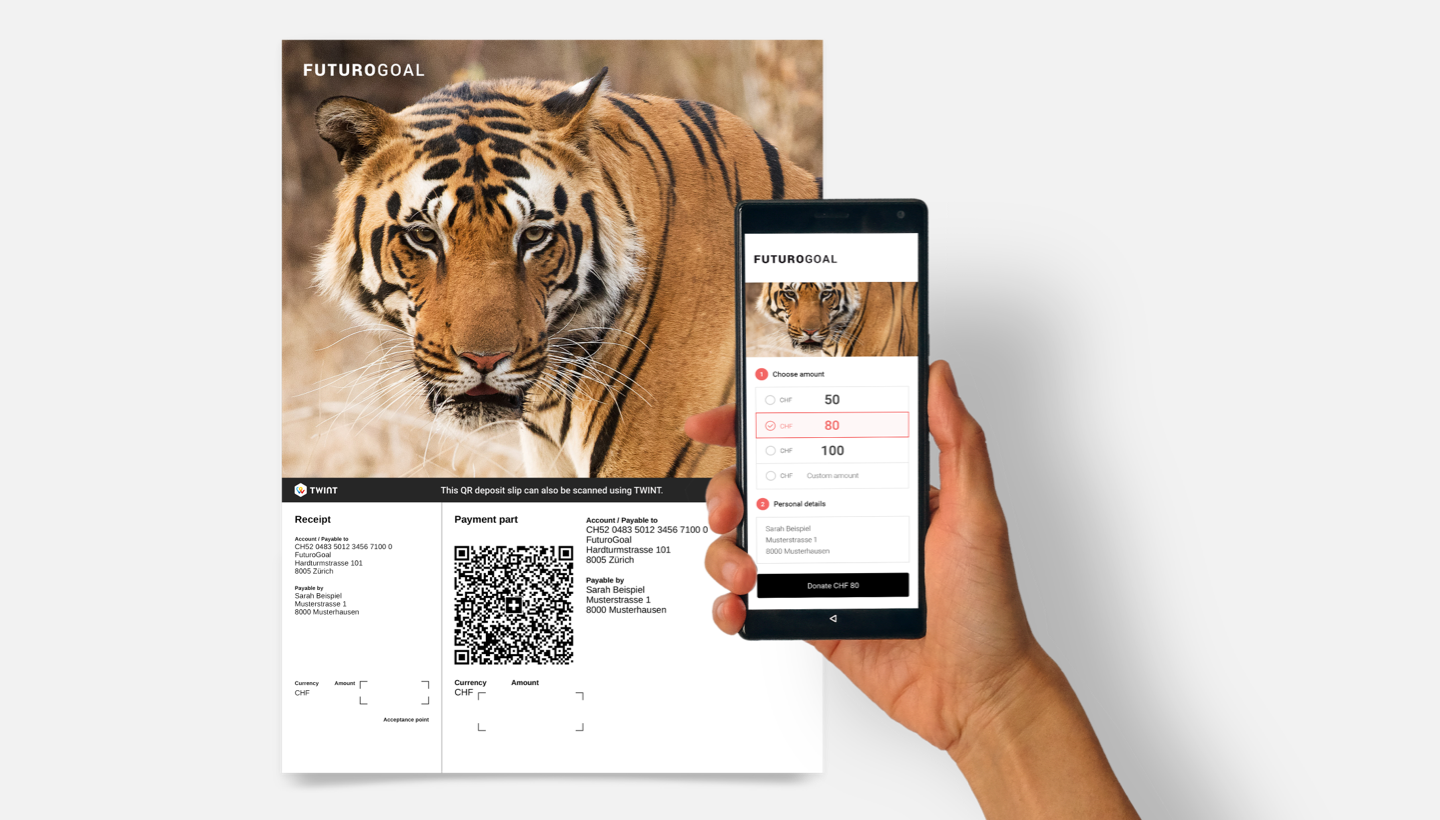 Two variants for the TWINT extension
The attached TWINT banners inform you that a QR payment slip can also be scanned and paid using the TWINT app.
The dimensions of the downloaded graphic are 210mm x 10mm, and it is designed to be inserted into an A4 print format without borders. For professional use in desktop/digital publishing software, we recommend that you use the EPS file.

TWINT Banner with standard text




TWINT tab with own info text next to it

Please be sure to observe the following guidelines
To guarantee quality and readability, you should not edit or change the downloaded banners. The black bar, the TWINT logo and the dimensions are explicitly required by TWINT, and are mandatory. Editing them violates the design guidelines. We reserve the right to block the QR code if you do not follow the layout guidelines.


The files must not be stretched or shrunk.



Please don't cut off the text, and don't separate it from the TWINT logo.



Please don't use any transparency or layer effects.

The TWINT part must not be adjusted in color.

The TWINT part of the tab must not be changed. The text next to it can be personalised. Color adjustments are also allowed.

Please note
Formatting the payment section correctly ensures a high recognition factor. This creates trust, so your supporters can donate as quickly and easily as possible.

Integration
Please note these simple rules for integrating the TWINT banner into printed or digital QR deposit slips.

QR deposit slips as printouts
If the payment slip and the receipt are integrated into one paper QR payment slip, the paper must be perforated as shown in the graphic below. Position the TWINT banner right above the upper perforation line.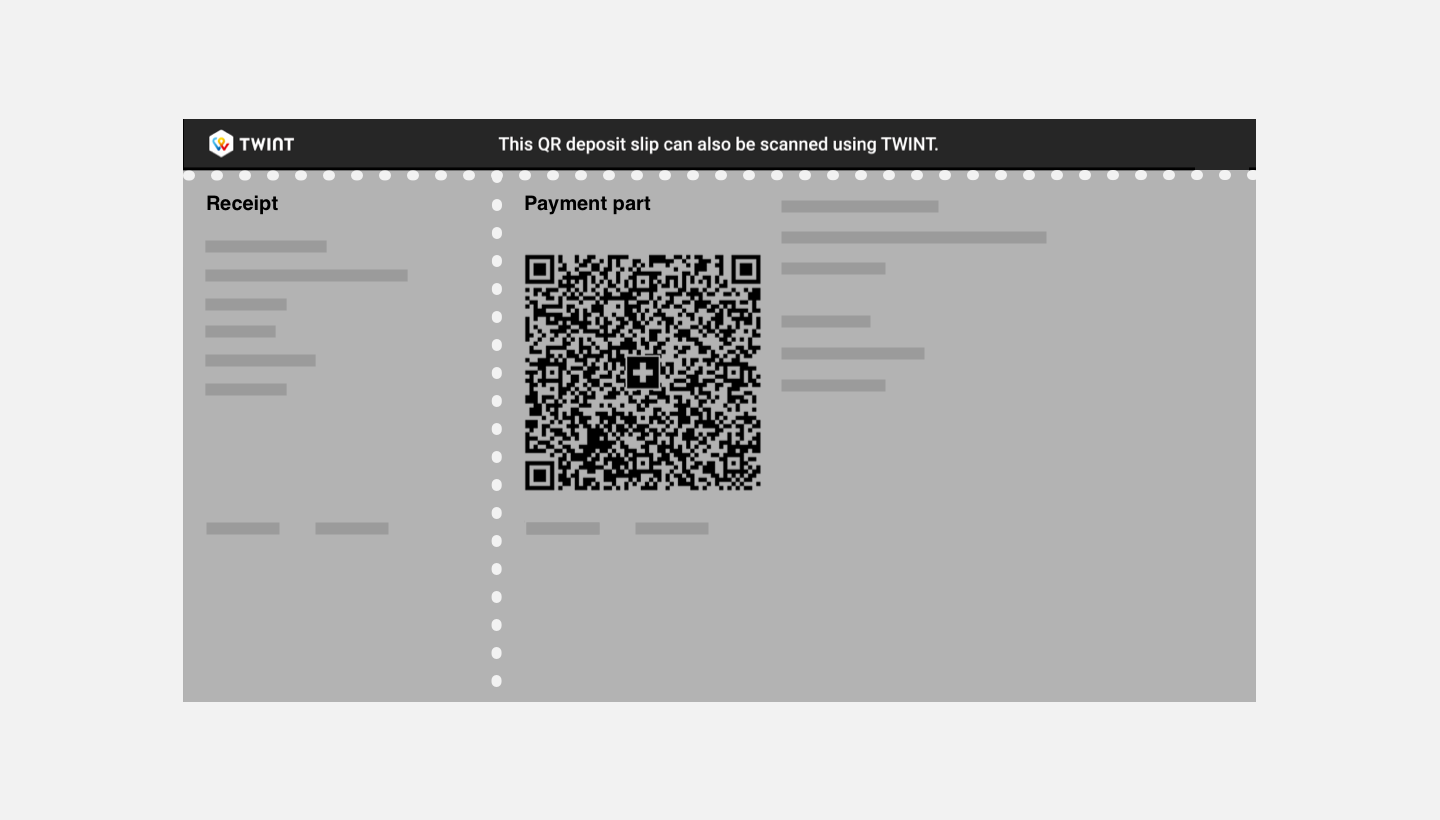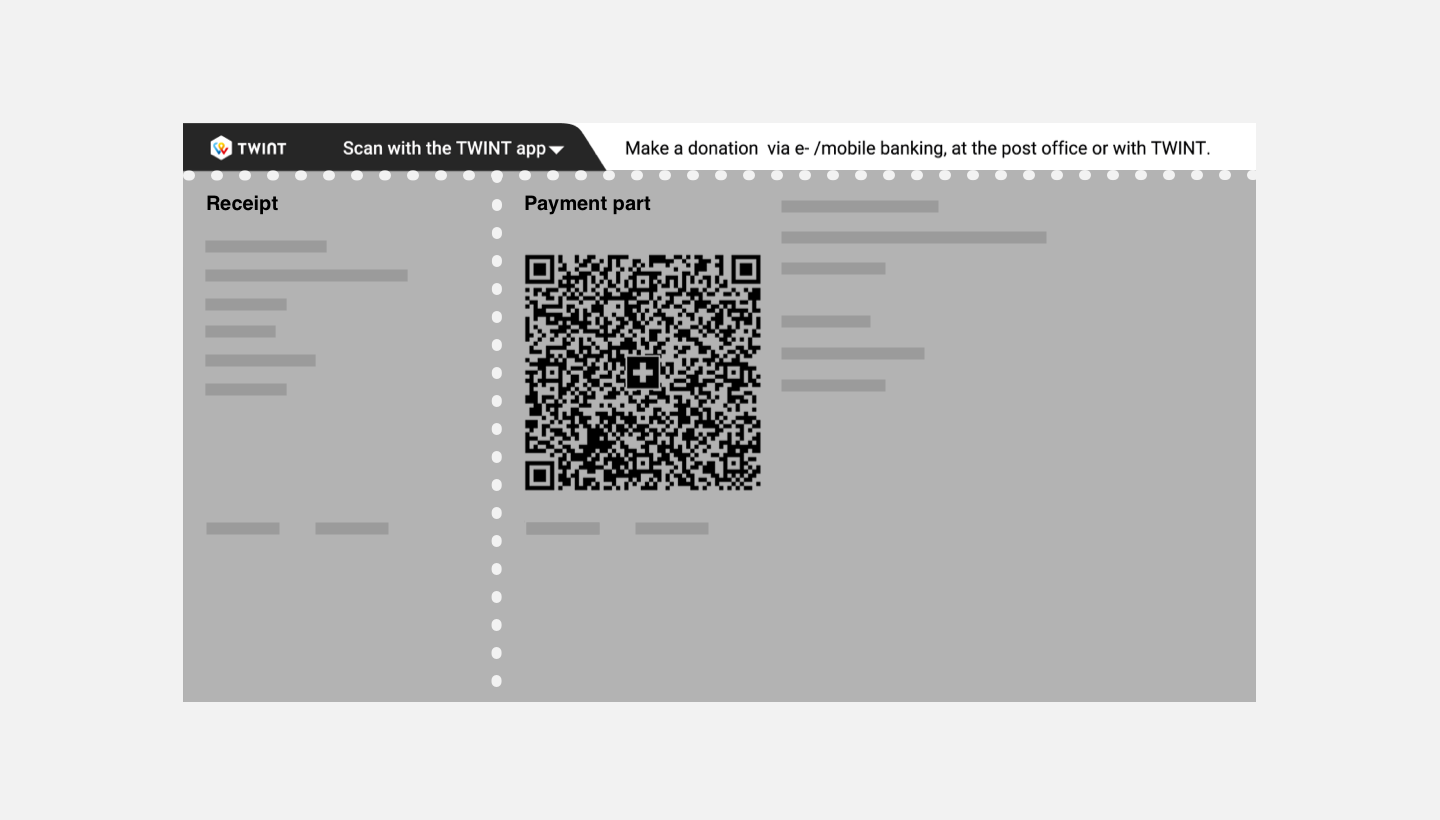 Perforate the paper along the dotted line.

QR deposit slips as PDFs

If the QR payment slip with payment slip and receipt is to be sent electronically as a PDF file, there must be a line with a scissors symbol between the payment slip and the receipt. Position the TWINT banner right above the payment slip and the receipt.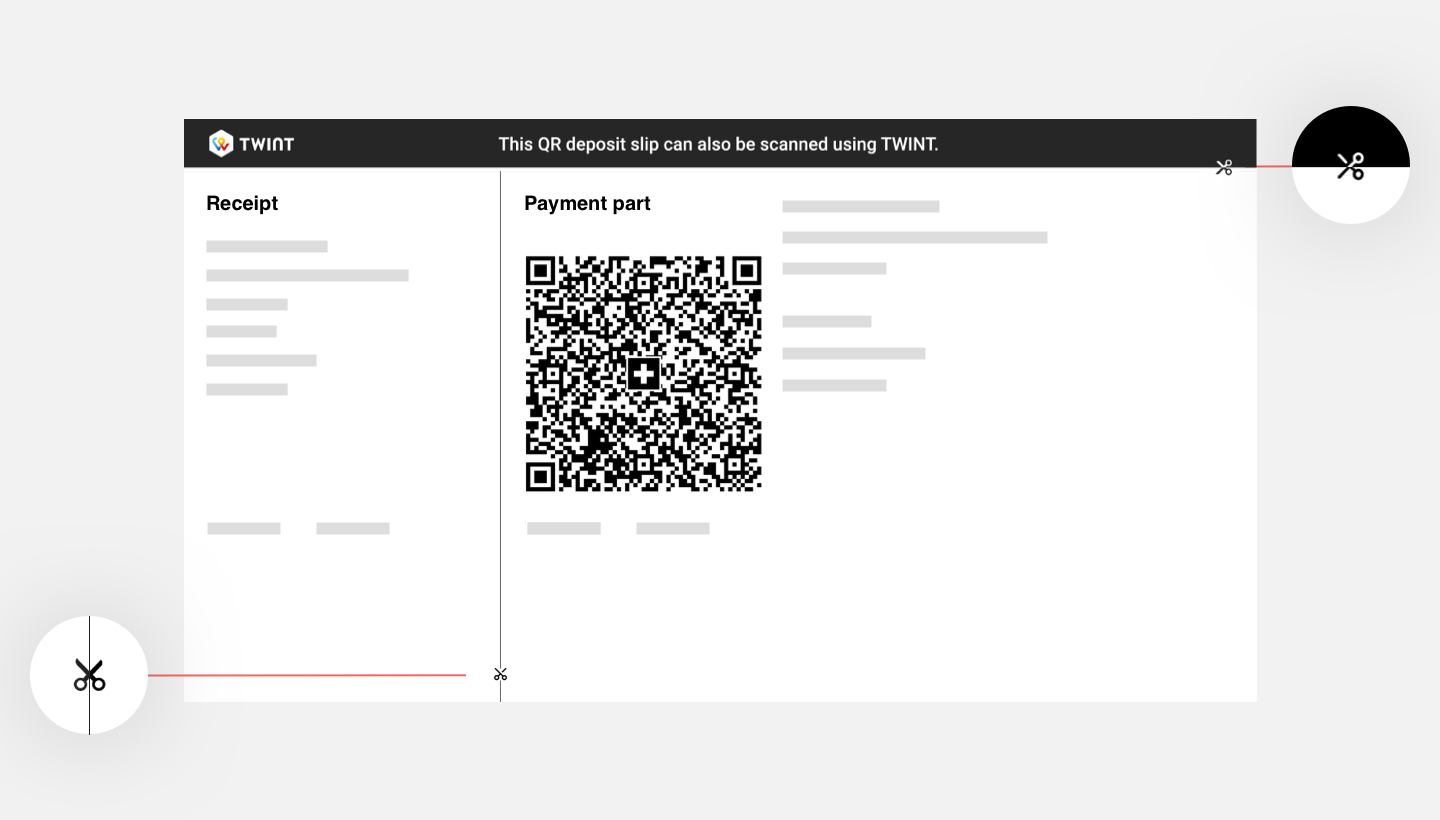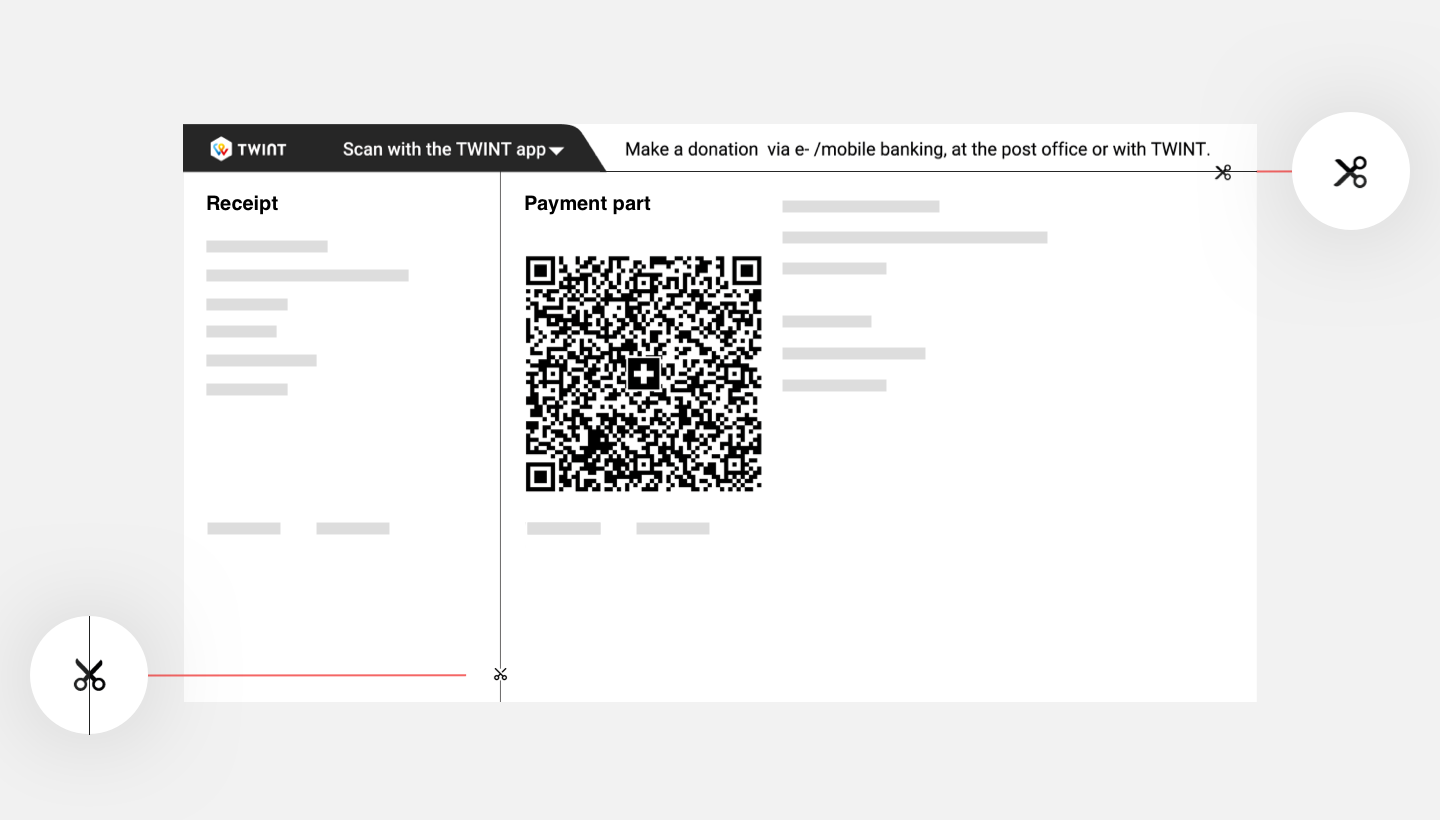 Integration examples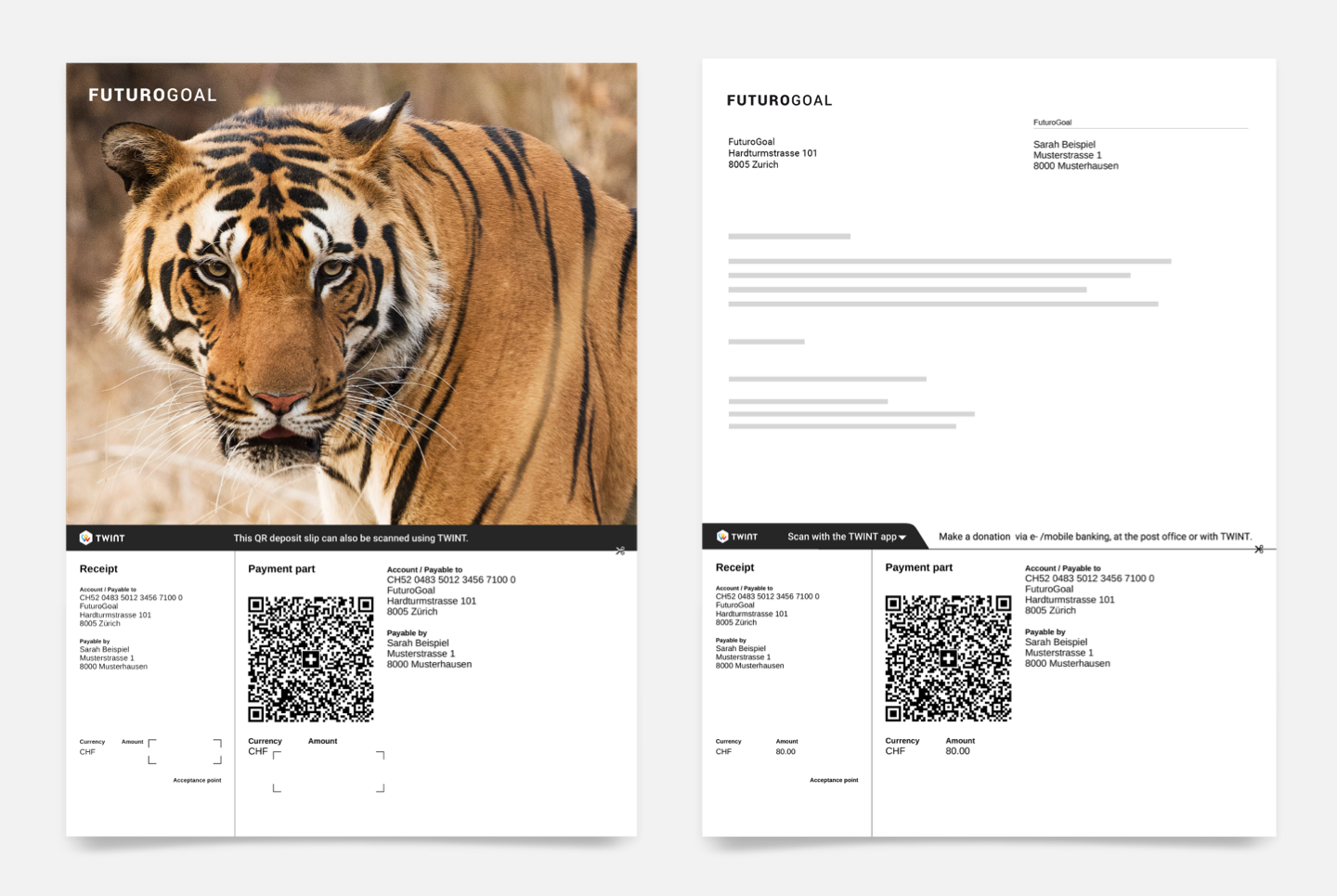 Quality check
We provide a quality check of your printed or digital QR payment slips to ensure that your supporters have the best possible payment experience. If you'd like us to check your deposit slips, send us a PDF at support@raisenow.com and you'll hear back from us within two working days.