With Featured Campaigns on TWINT+ you can reach even more potential donors and bring them directly to your donation form.
To learn more about Featured Campaigns or to get started right away, contact sales@raisenow.com.
You are already listed in TWINT+ and are currently preparing your Featured Campaign? Before you send us the texts and images for your campaign, please read the following tips.
Before you start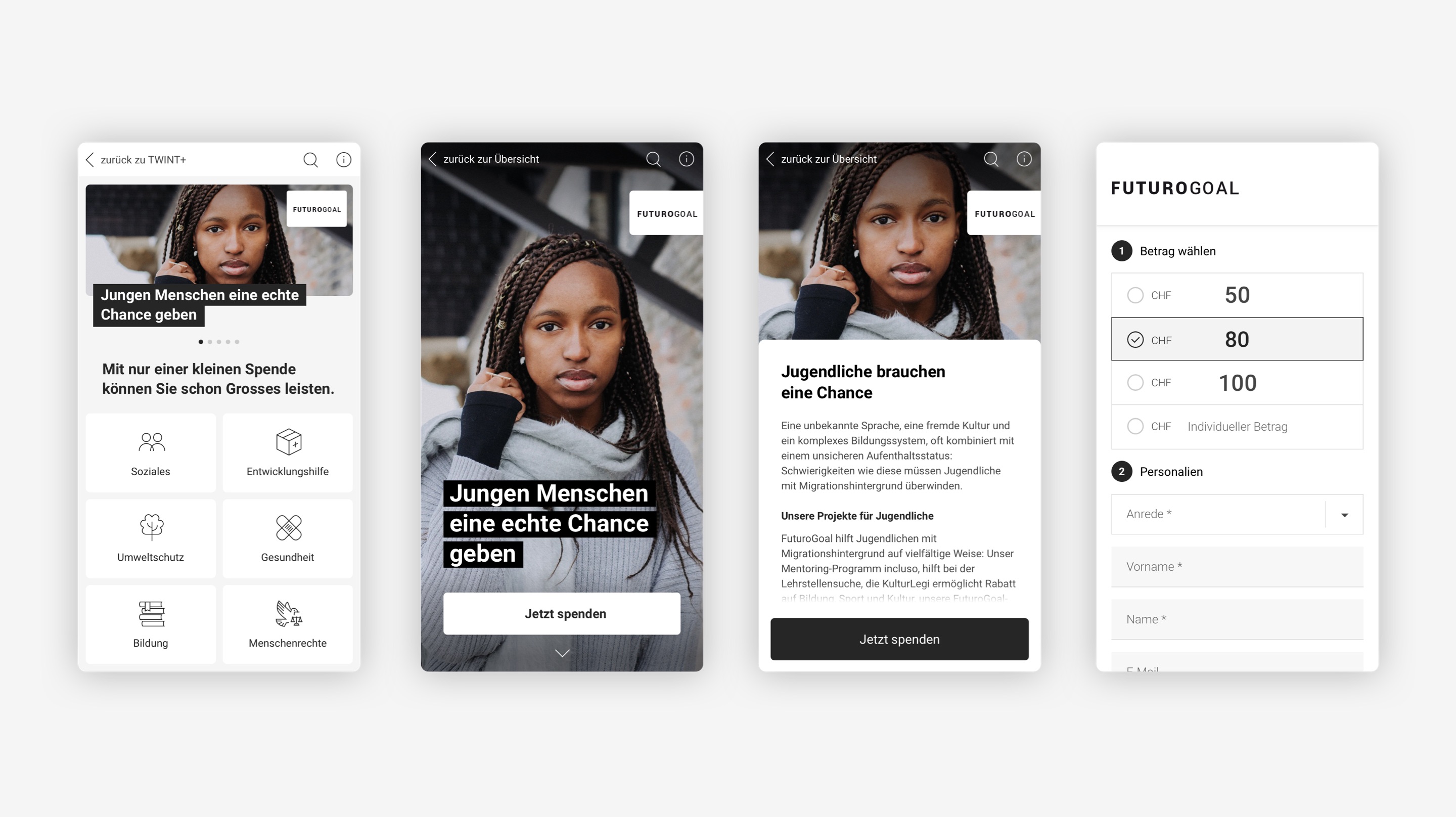 Here you find an overview of the different elements of a Featured Campaign.


The teaser (1) is the first thing the TWINT+ visitors see. With one click they will be redirected to the campaign (2). The CTA button "Donate now" leads directly to the donation form.
Tipps for your Teaser (1):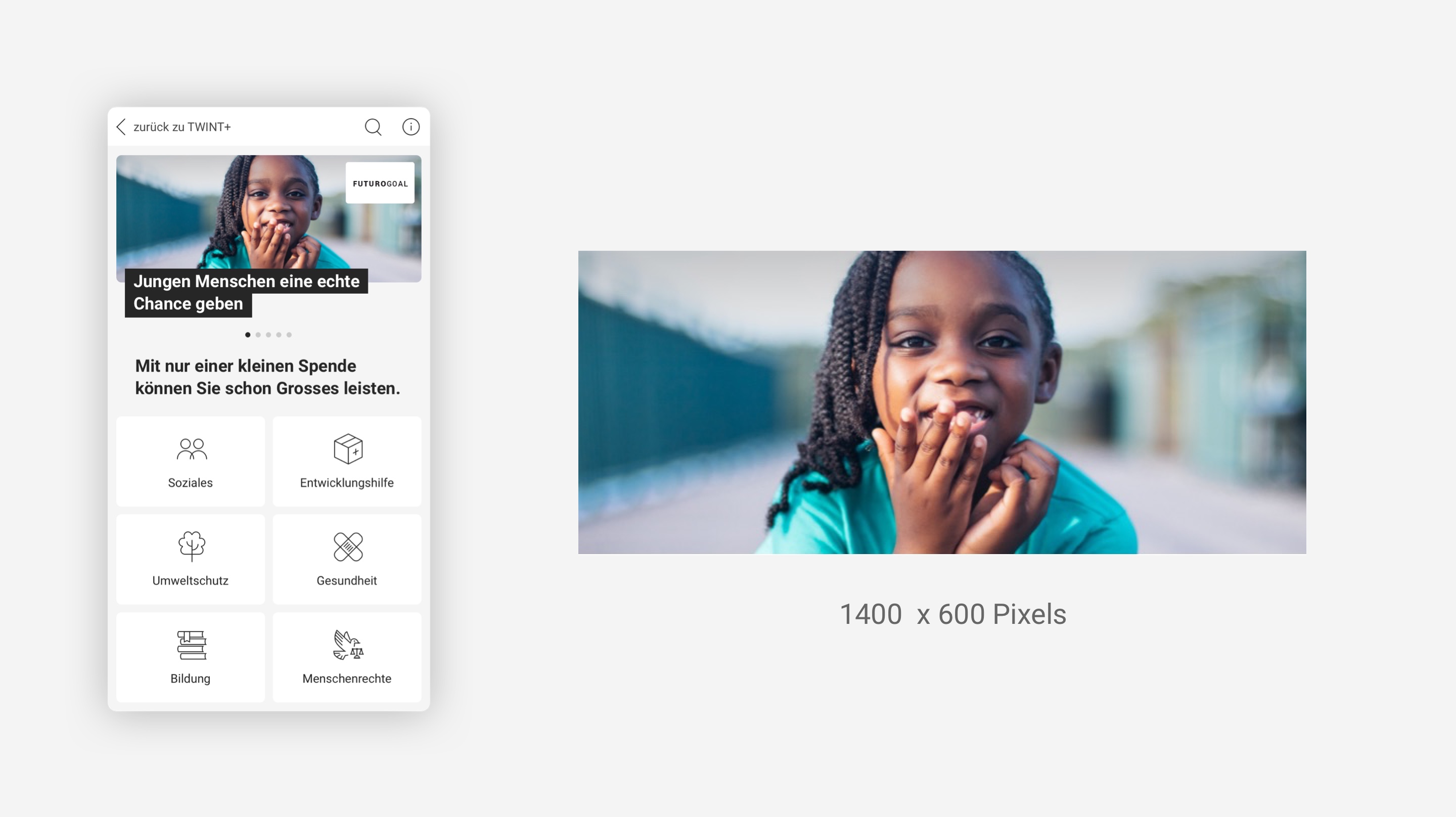 Select a suitable photo and a title here to increase interest in your campaign among potential donors.
You can as well use one of your campaign images, it is only important to provide the teaser image in the size 1400 × 600 px. The format must not be exceeded, otherwise the subject might be cut off.
Tips for your campaign page (2):
On your campaign page you can tell the TWINT+ visitors more about your campaign. You can add images, titles and a meaningful text.
Campaign images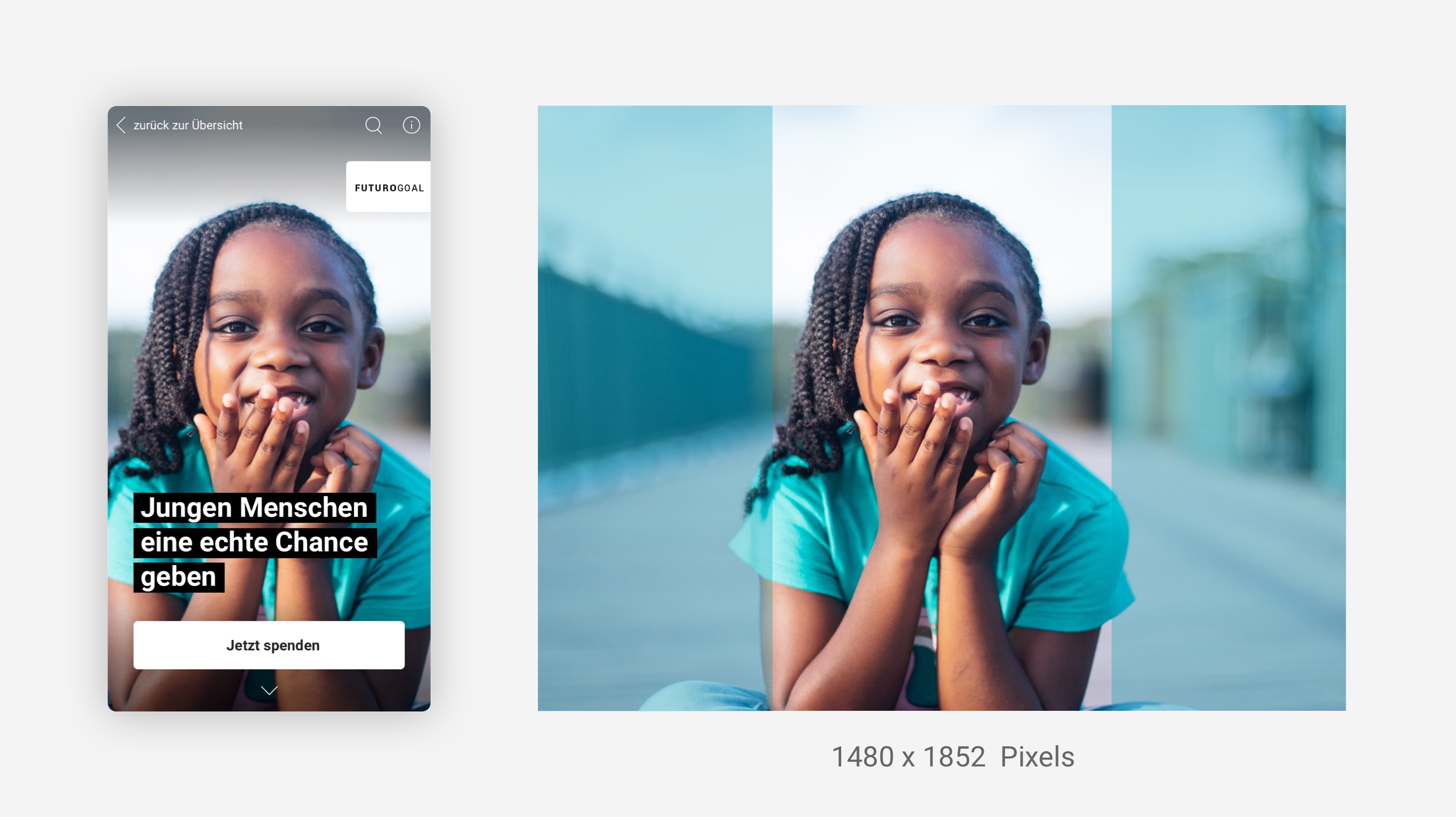 Your campaign images should be 1480 × 1852 px

.

The format 1280 x 960px is also fine. Note: The images are displayed horizontally. Therefore, please make sure that the focus is in the middle of the image when using this format.
File size and format: Please try to keep the images below 200 KB and save them as JPEG.

Ideally, you'll use an image editing program like Photoshop or similar to create the right format.
Slideshow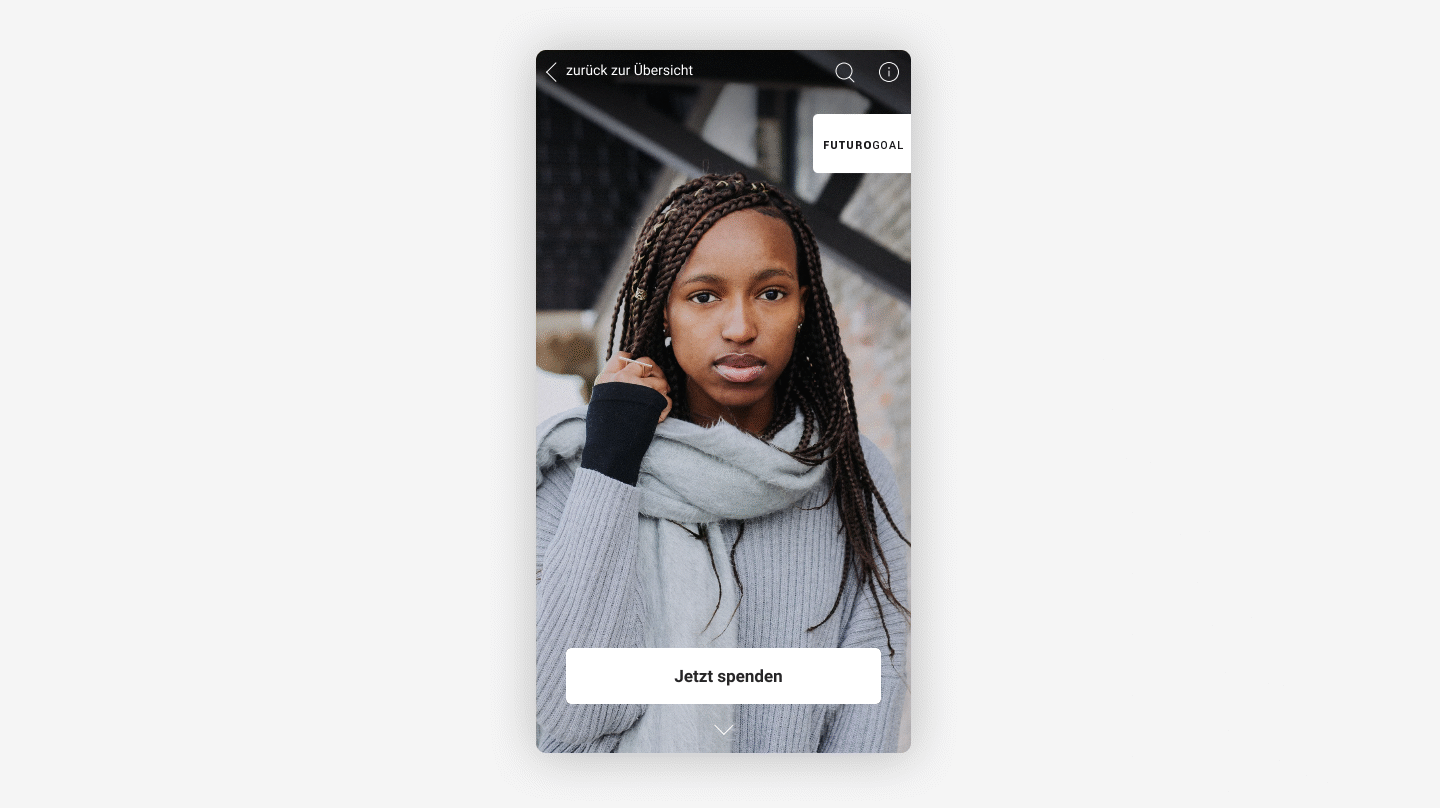 The slideshow gives you even more possibilities to tell a story. Feel free to send us up to 5 images with different visuals and associated headlines.
Video
If you want your campaign to stand out even more, there is the possibility to show a video instead of images. Please implement the following requirements for your video:
In portrait format 1080 x 1920px, as mp4 file and video codec H. 264.
The video must not exceed the size of 100 MB and have a maximum length of 30 seconds.
Without integrated logo (will be faded in automatically).
Without audio and without text; however, headlines can be added by us as with the images.
Ideally as a loop so that the video plays automatically.
Also, please send us a still image with dimensions 1280 x 960px.
Text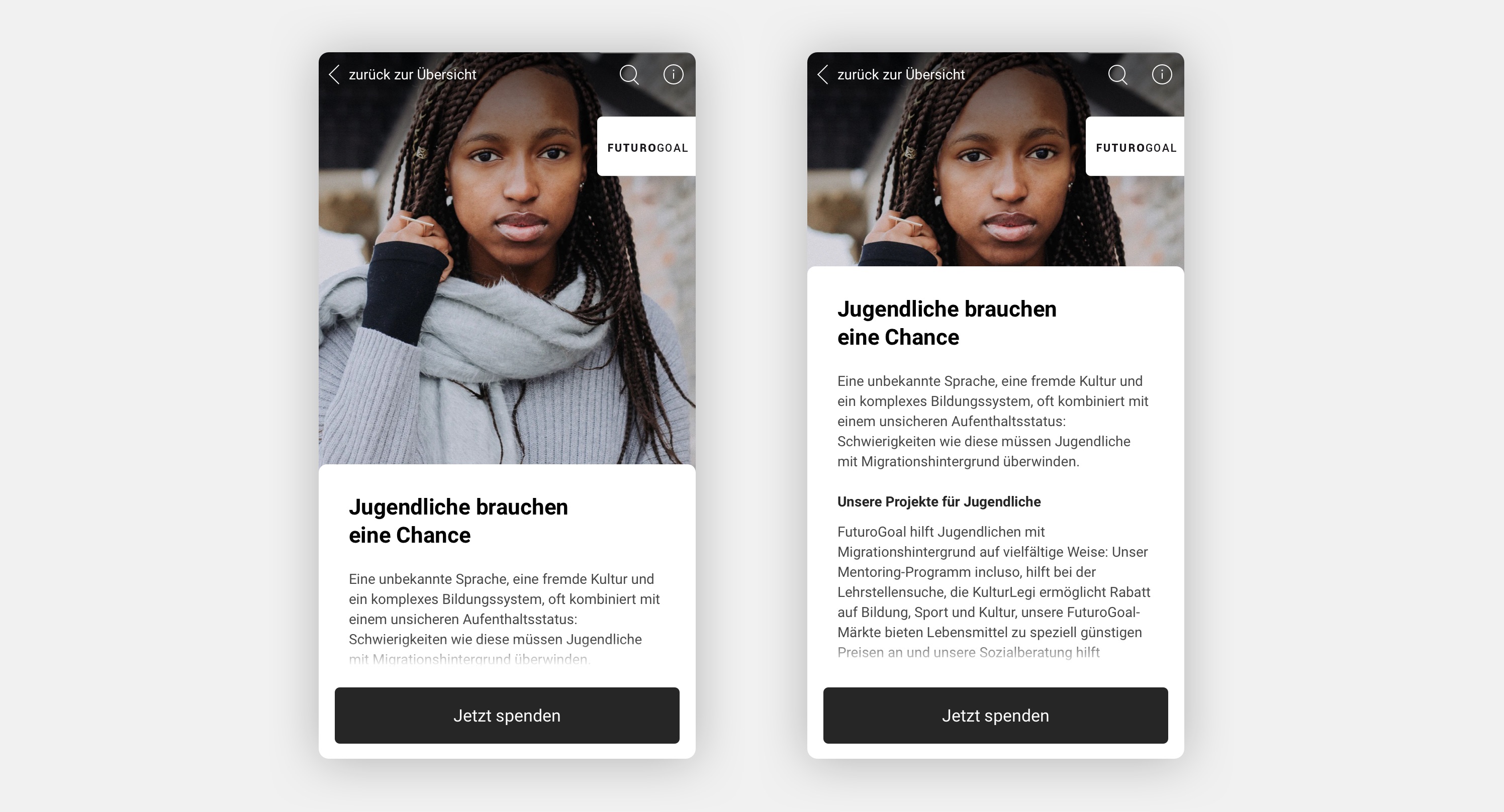 Share more about your campaign, you can write up to 2000 characters. To improve the clarity of the text, feel free to use subtitles.


Now your campaign material is ready! Upload your selection to the form that was emailed to you when we confirmed your Featured Campaign.