If we have already activated your account in our RaiseNow Hub, and if you already had the opportunity to create one or more QR codes (here we describe the different solutions which are available) then you may have already noticed that one or more transactions are displayed with the status "Failed" in your transaction list.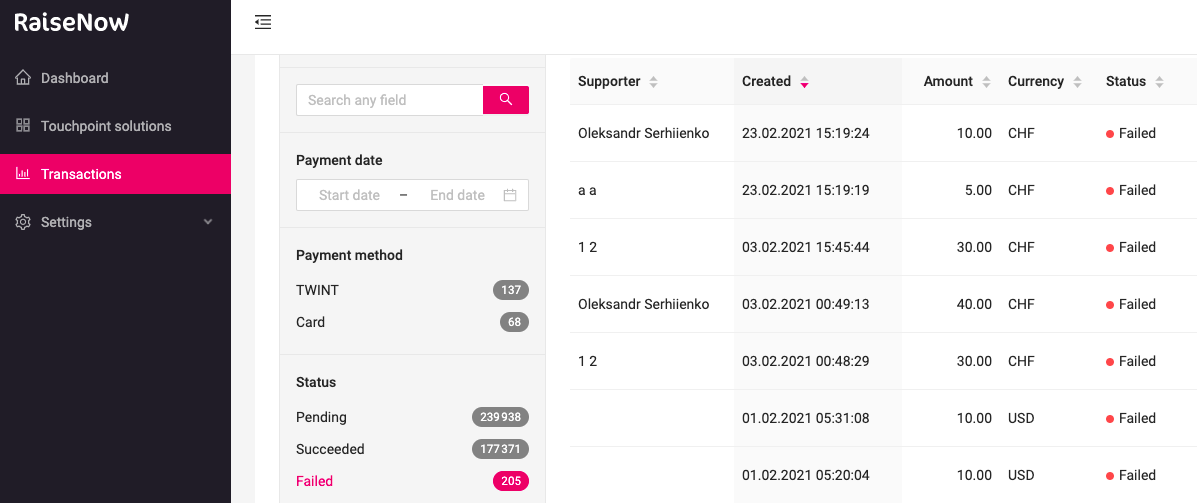 Don't worry! It can indeed happen from time to time, and there might be different reasons for this:
1) The person who wanted to make the payment or donation did not have enough money in his/her account to be able to validate the transaction. In that case he/she first needs to make sure that he/she has enough credit in his/her TWINT App.
2) The person has not validated the payment in the TWINT App. Indeed some people forget to validate the transaction in the TWINT App as well.
3) The person no longer remembers his/her credentials (information required for the validation of a payment in the TWINT App). A payment can only be validated if the person enters all the required information.
4) The person waited too long to validate the payment after entering his/her information. This can happen if the person has done something else in the meantime, and perhaps forgot to validate the payment afterwards.
5) Technical issue: Unfortunately it can happen (however very rarely and exceptionally) that a transaction can not be validated due to a technical issue with TWINT. Usually this kind of problem only lasts a few minutes, so there is no need to worry about the functionality of your QR code(s).
If you have chosen the option to collect information about your customers or donors (this option is only available with the "TWINT QR Pay Plus" or "TWINT QR Donate" solution) then you always have the possibility to contact the person by email to let them know that their transaction has failed and to invite them to go through the payment or donation process once more.
Please do not hesitate to contact us directly by sending an email to support@raisenow.com if you need further information.