RaiseNow transfers the payments and donations collected via TWINT to the bank account you specified in your organisation settings. Transactions from other payment providers (such as Stripe & PayPal) are paid out by the payment provider themselves.


What is RaiseNow's payout schedule?
RaiseNow facilitates payouts once a week, every Wednesday. It is not possible to adjust the payout interval. The current payout period is approx. 3 to 9 days depending on when the payment/donation has been made. This is because we first need to receive and process your payments.


How can I see the total amount I will receive on each payout?

Before each payout, you will receive an email from us with a summary of the total amount you will receive and the payment date.
You can also see the total amount you raised through TWINT on your dashboard under "account balance". However, not the entire amount in your account balance may be paid out at once due to pending transactions or refunds executed.

Where can I access more information about payouts?

You can access detailed information about your payout in RaiseNow Hub. Select "Payouts" in the menu on the left-hand side and you will be able to see an overview of all your payouts right away.

Important: You can also download your payout report as a PDF file here. See below for more information.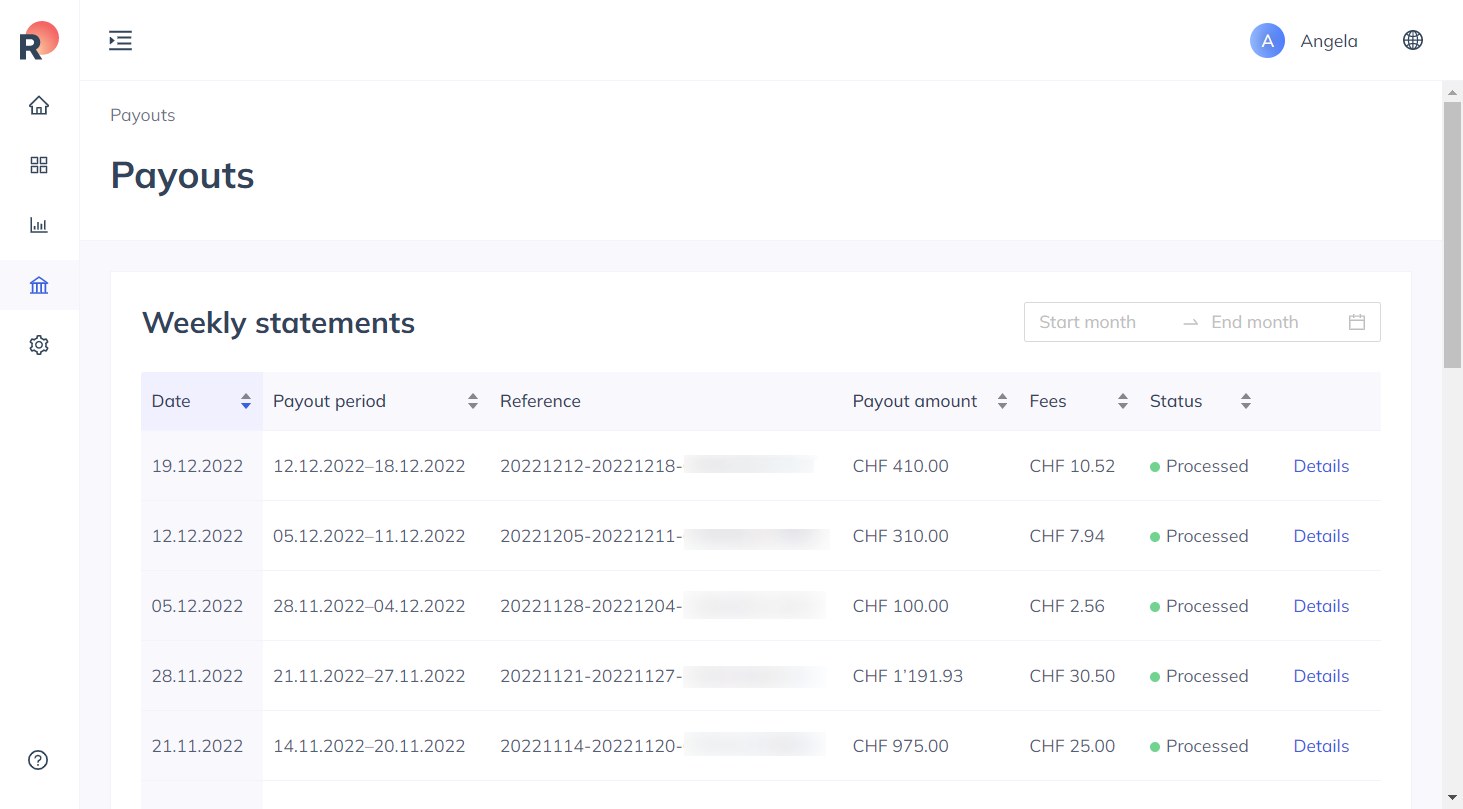 In the following we will explain the exact meaning of each component.
1) Date: The day on which the payout is initiated. Please note: This is NOT the date on which the amount arrives on your bank account.
2) Payout period: The period covered by the payout report and the transactions within that period.
3) Reference: The number used to identify your withdrawal. You will also find the reference number on your account statement.
4) Payout amount: The amount that is paid out to you and appears on your account.
5) Fees: The fees incurred for each successful transaction in the respective payout period. You can find out more about fees here
6) Status: The status of the withdrawal. "Processed" means that we have initiated the withdrawal.
7) Details: If you click on "Details" a small window will appear on the right hand side that will display all details of the selected payout. You can see refunds and a breakdown of the fees here as well as download a PDF of the payout statement.
If you want to download your payout report as a PDF file select "Download PDF" on the upper right-hand corner to start the download process.
If you want to download a detailed overview of all transactions including personal data of your donors within the payout period, click "Export" in the section "Transaction History". You can download your transaction overview as a CSV or XLSX (excel) file here.
Be aware that you can only receive personal data of your donors if you this this option enabled in your Touchpoint Solution.
Feel free to contact us at support@raisenow.com if you have any further questions.