What is a beneficiary?
A beneficiary is an organization that receives the donations. 
If a donor chooses the country and currency for his donation on the Employee Giving Platform a list of organizations that accept the chosen currency-country combination will appear. By setting up a beneficiary you can define the accepted countries and currencies for every organization on the platform.
Setting up a beneficiary:
Log in to the back-end of your platform
In the menu on the left choose 'Beneficiary'

3. By clicking on the left you will see the beneficiaries you already have. To create a new one, click 'Add Beneficiary' on the top right

4. Now you can enter the information about your new beneficiary:
Name: Name of your Beneficiary e.g. Save the Children (CH) - will be published in Check-Out
Identifier: Think of an acronym that will let you differentiate all beneficiaries. The identifier will appear in the URL of the ckeckout. Example: Save the children UK = scuk, Save the children US= scus

Description: Add any kind of information you want. Will be published below Name in Check-Out.
This field is not mandatory you can leave it empty
Widget API Key: For every new Beneficiary RaiseNow creates a new widget.
You will receive the widget API key from customer support (support@raisenow.com)
Is active: Set the beneficiary to active once you have all the information
Currencies: Choose the currencies the beneficiary will accept for donations. Please be aware that not all currencies are automatically available and that you may need additional E-payment contracts. If you are unsure about currencies, please contact our support at support@raisenow.com and we will give you more information. 
Countries: Enter the countries that the beneficiary will allow donations from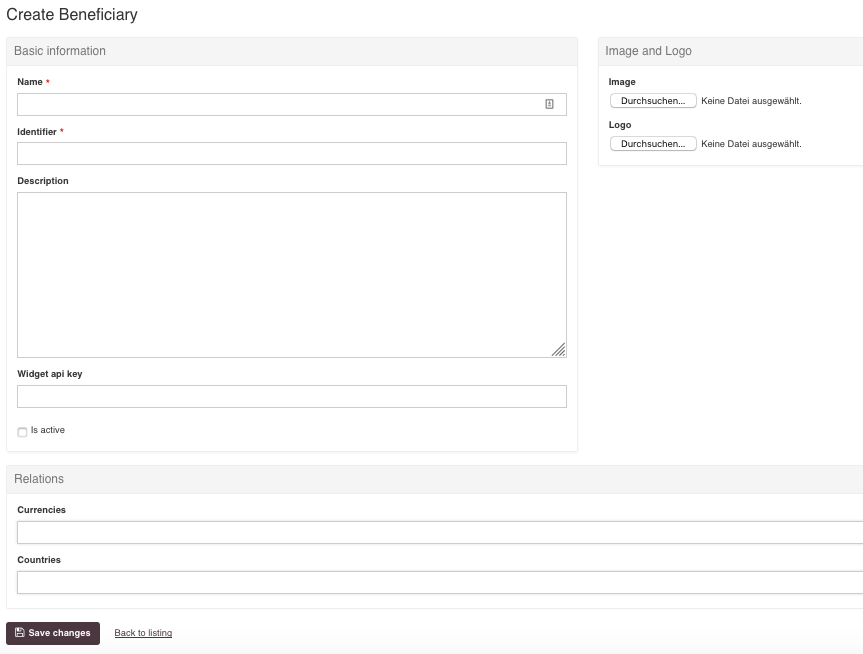 5. Add an image and a logo on the right
This is a mandatory step, otherwise, checkout won't work.
6. After you have filled in the form click 'Save changes'
The new beneficiary will appear now in the list of beneficiaries. You can make changes by clicking 'Edit' or set a beneficiary on inactive by switching from YES (green) to NO (red)
If you have any questions, please send us an email to support@raisenow.com
TIP: This article explains how to create content in different languages.