With our Alias Manager you can create alias URLs for existing URLs with a simple redirect.
The screenshot below shows our Alias Manager in the P2P backend. The different field names are explained in the following list:
Alias: This will be the new URL - the new alias. Important is that you only replace the name after the platform URL. In case of our Futurogoal platform, you would only need to adjust the URL after https://futurogoal.raisenow.com/
Name: This is an internal name for the new alias you are creating. It will only be visible for your own documentation. 
Description: This is as well only for internal reasons and your documentation. 
Type: Please always enter "redirect" here! This is the instruction to create a redirect to the new URL.
Target URL: This is the old URL you would like to substitute with the new alias URL. Please keep in mind that you need to provide the full URL in this field.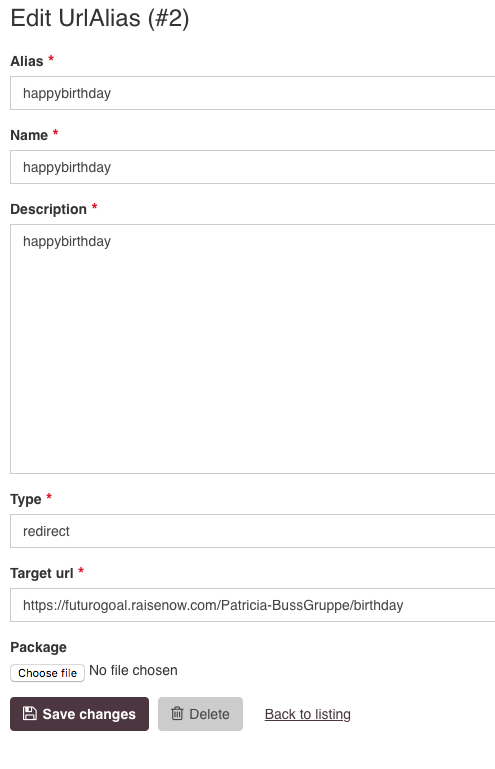 In the example above the old URL hast been  https://futurogoal.raisenow.com/Patricia-BussGruppe/birthday. The user wanted to change this URL to a new alias https://futurogoal.raisenow.com/happybirthday. Therefore the user only entered happybirthday in the field Alias.
If you have any questions regarding the Alias Manager, please do not hesitate to contact us via email at support@raisenow.com